Movie Reviews
1. Harry Potter and the Sorcerer's Stone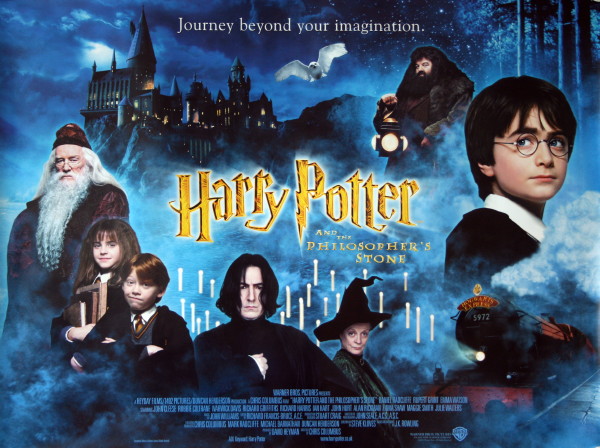 Director: Chris Columbus
Synopsis:
On his eleventh birthday, a boy named Harry Potter (Daniel Radcliffe) discovers that he is a wizard and his parents were acually murdered by a Dark Lord, whom he had supposedly vanquished as a baby. He attends Hogwarts School of Witchcraft and Wizardry where he meets Ron Weasley (Rupert Grint) and Hermione Granger (Emma Watson), who become his best friends and his loyal companions as he faces terrible danger in the form of magical creatures and dark wizards alike.
Personal Review:
This movie is actually kept very true to the Harry Potter and the Sorcerer's Stone book, which, as an obsessive fan of the entire book series, I deeply appreciate. Entire scenes with quotes taken directly from the book's dialogue can be found within the movie. It has great special effects for an early 2000s movie, and it is easy to get lost in the story.
2. Spider-Man: Homecoming
Director: Jon Watts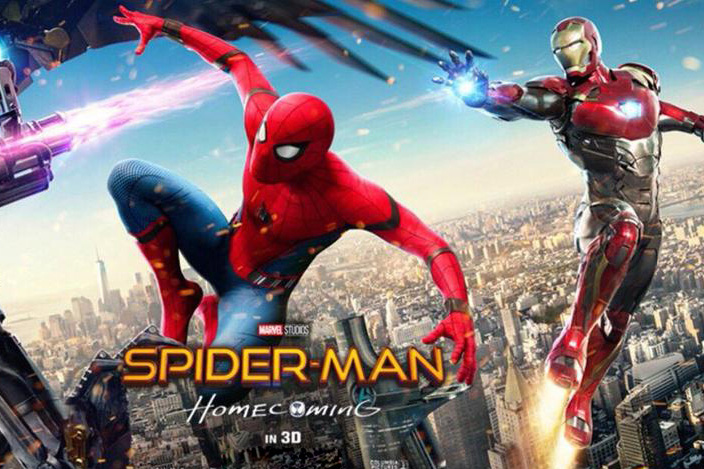 Synopsis:
Our friendly, neighborhood Spider Man (Tom Holland) is back in New York City after the events of Captain America: Civil War in Germany. However, he is no longer satisfied with his life as the normal, though brilliant, teenager, Peter Parker. He longs to do more than be a helpful, local hero, but Tony Stark (Robert Downey Jr.) disapproves of Peter's high ambitions, installing safety measures and tracking Peter with his suit. When Peter stumbles upon a ring of criminals developing and selling weapons made of advanced stolen technology, he circumvents his security and tries to stop them despite Mr. Stark's warnings, and gets himself into a heap of trouble.
Personal Review:
There have been two series of Spider Man movies prior to this one, but there is always something wrong with the portrayal of my favorite superhero. Tobey Maguire gave his audience a great Peter Parker, but his Spider Man lacked the wit and talkitive nature we came to expect from the teen hero of the comics. Andrew Garfield's Spider Man had the humorous comebacks we were looking for, but both egos came off as cocky. Tom Holland, however, is not only far closer to our hero's age but also his personality. This movie truly shows what a teenager with superpowers would have to deal with in the modern age. It is fun with very dramatic, heart-wrenching moments that will have you on the edge of your seat.
3. Big Hero 6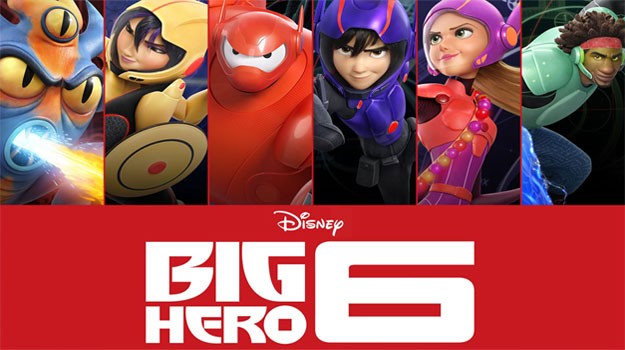 Director: Don Hall & Chris Williams
Synopsis:
Hiro Hamada (voiced by Ryan Potter) is grieving the loss of his brother, Tadashi (voiced by Daniel Henney), when his brother's inflatable healthcare robot, Baymax (voiced by Scott Adsit), finds a clue that reveals his brother's death was no accident. Now Hiro and a group of his brother's science-loving friends must unravel this dangerous mystery by becoming a team of super heroes before the culprit is able to enact his wicked plot.
Personal Review:
This movie was very touching, and it made me cry. Twice. While there were many heartwarming moments, it also included a great deal of humor, and the whole story is quite thrilling. It is nearly impossible to not love Baymax, and Tadashi's death is an unwelcome suprise for those who have never seen the movie.
4. Up
Director: Pete Docter

Synopsis:
Carl Frendricksen (voiced by Ed Asner)and his deceased wife, Ellie, loved adventure and always longed to go to Paradise Falls, but they never made it together. Now the city wants to put Carl into an elderly home, so this is his last chance to fulfill their dream for the both of them. Securing his house to a horde of balloons, he leaves for the Falls, but he doesn't account for the stowaway. Russell (voiced by Jordan Nagai) is a boy scout hoping to earn his Assisting the Elderly badge, so he accompanys Carl on his journey to take his house to the edge of the falls, but Paradise Falls has something more sinister lurking in its shadows.
Personal Review:
This is a very tender-hearted movie with a lot of humor and a good sense of adventure. One of my favorite parts is the silent montage of Carl and Ellie's life together because it is a short but incredibly moving piece of film that captures the beautiful essence of their relationship. Probably one of the best animated films ever.
5. The Sorcerer's Apprentice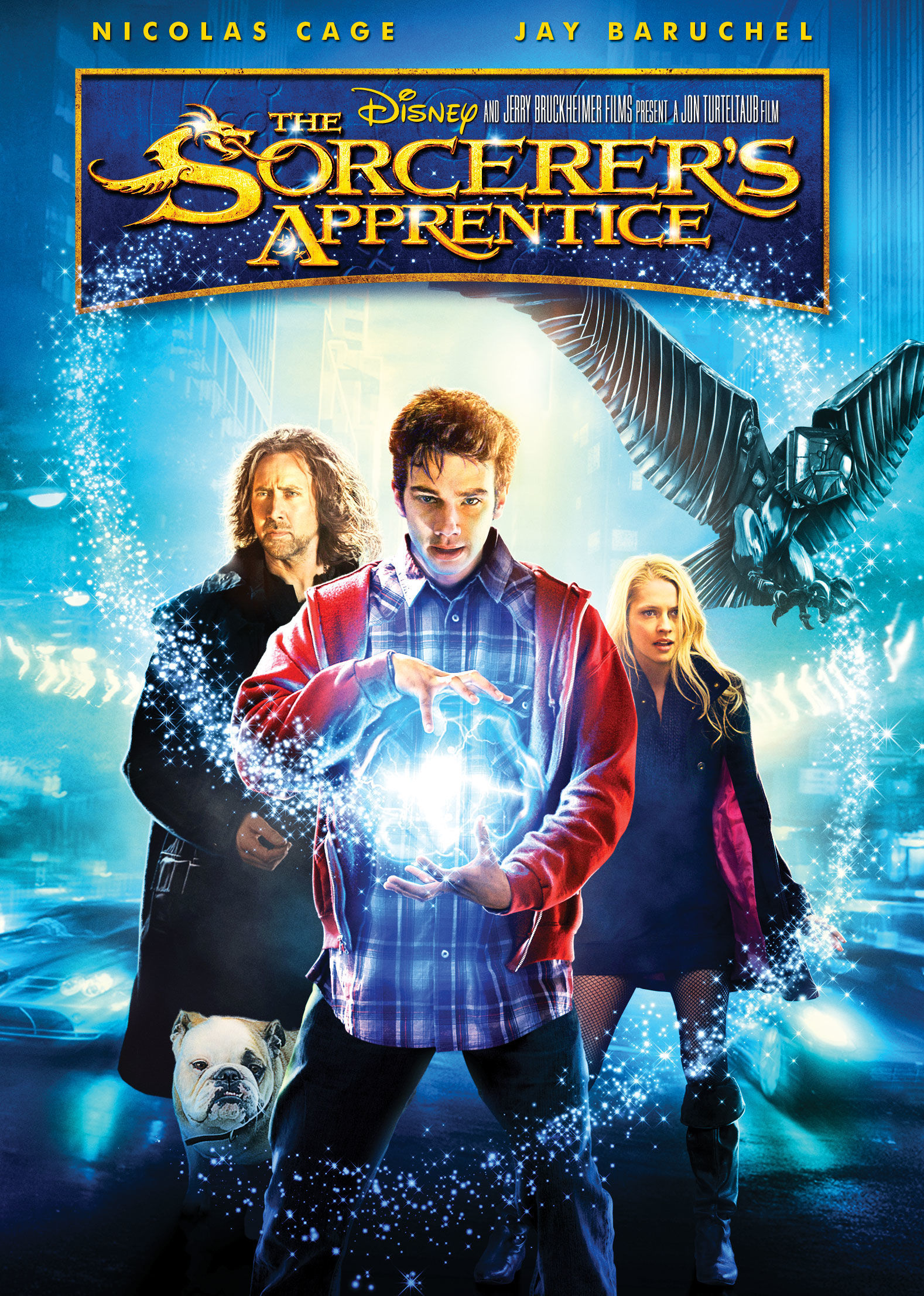 Director: Jon Turteltaub
Synopsis:
Dave Stutler (Jay Baruchel) accidentally finds himself in a battle between two very old sorcerers on a school field trip before they are both locked in a vase. Ten years later, the sorcerers have broken free, and they both want to find Dave. Balthazar Blake (Nicolas Cage) takes Dave as his apprentice to train him to become the "Prime Merlinean", a very powerful sorcerer. Meanwhile, Maxim Horvath (Alfred Molina) wants to take Merlin's ring from Dave to bring back Morgana le Fay (Alice Krige) and raise dark sorcerers from the dead.
Personal Review:
This movie has long been a favorite of mine because I love the mix of modern society with old magic and science. It is fun and exciting with an ending you don't expect. It is one of the few movies that I never seem to mind watching because it holds my interest every time.